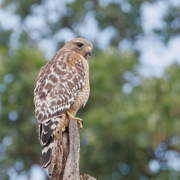 Hover over to view. Click to enlarge.
Red-shouldered Hawk
Buteo lineatus
Falconiformes
The hawks, eagles, falcons, and allies make up a group known as the diurnal raptors, because they are active during the day. Members of this group typically use their acute vision to catch live vertebrate prey with their strong feet and toes. They vary from medium-sized to large birds and most have an upright posture and strong, short, hooked bills. The New World vultures (not closely related to the Old World vultures) were once classified with the herons and allies, but they have provisionally been grouped with the diurnal raptors on the basis of recent genetic studies. Members of the order Falconiformes in Washington fall into three families:
Accipitridae
Although this is a large and varied family, its members share many similarities. They are all diurnal hunters and, for the most part, use their sharp vision to locate prey, which they capture with strong feet. Many members of this family are migratory, and they often concentrate along major migration corridors. These migration corridors often follow ridgelines, where the birds ride updrafts to facilitate their journey south. Like other birds of prey, female hawks et al. are larger than males. Most members of this family are monogamous, and many form long-term pair bonds. Females generally incubate the eggs and brood the young, with some assistance from the male. The male brings food to the nest. Once the young no longer need to be brooded, both parents bring food. Extended parental care is the norm for this group, as it takes a relatively long time for young to learn to hunt.
General Description
Expanding northward from Oregon. Rare in winter in lowlands in southwestern Washington; annual for the last decade at Ridgefield National Wildlife Refuge (Clark County); probably increasing elsewhere along lower Columbia River. Scattered recent records both north and east from there.
Abundance
North American Range Map